Jeg lavede i mandags en lille gættekonkurrence, om hvad der giver flest nyhedsbrevtilmeldinger på hojmark.dk: En nyhedsbrevboks med fokus på en konkurrence eller en god PDF-guide. Læs evt. mit oprindelig blogindlæg her.
Lad os se resultatet: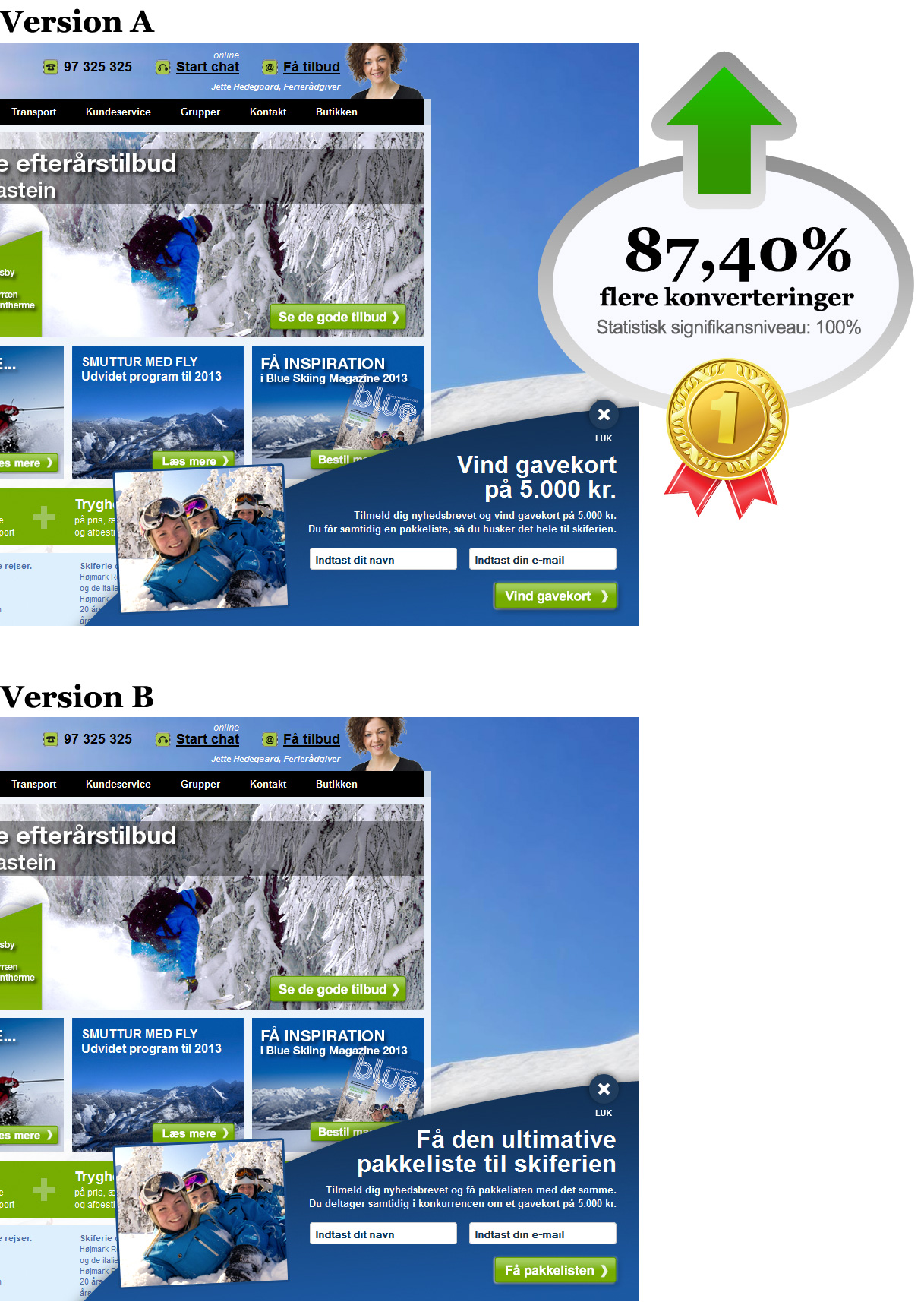 Resultatet
Versionen med fokus på konkurrencen konverterer altså 87,40% flere nyhedsbrevtilmeldinger end versionen med fokus på PDF-guiden.
Hvorfor denne store forskel?
Jeg skal gerne indrømme min egen tese var, at versionen med PDF-guiden ville konvertere bedst. Jeg troede hellere folk ville have en konkret guide end at deltage i en konkurrence om et gavekort.
Men åbenbart virker "guleroden" med gavekort stadig utrolig godt – hvert fald til denne målgruppe. Hvorfor? Måske er det digitale produkt, pakkelisten, simpelthen for uinteressant? Hvert fald sammenlignet med muligheden for at vinde 5.000 kr.
Er tilmeldinger fra konkurrencer mindre værd?

Et andet relevant spørgsmål er, om kvaliteten af disse nyhedsbrevtilmeldinger er mindre værd, når der "lokkes" med en konkurrence? Ofte ser man jo e-mailadresser som f.eks. konkurrence1983@gmail.com. Disse sælger man nok ikke mange produkter til.
Umiddelbart ser kvaliteten af de nye tilmeldinger fornuftig ud. Denne splittest er dog lavet for ganske nylig, så Højmark Rejser har ikke tilstrækkelig data endnu fra nyhedsbrevudsendelserne til at vurdere, om de nye tilmeldinger fra konkurrencen-boksen konverterer dårligere end de andre tilmeldte.
Jeg tror dog det er vigtigt, at de nye tilmeldinger alle har tilmeldt sig på hojmark.dk. Dvs. der er ikke benyttet nogle konkurrence-sites e.l. til at skaffe de nye tilmeldinger. Alt andet lige vil folk der besøger hojmark.dk have en vis interesse for skirejser og dermed være relevante at have i kartoteket.
Hvad tror du?
Vil du have en lignende boks på dit website?
Efter mange forespørgsler er jeg nu ved at udvikle en service, der kan vise en lignende boks og som kan installeres på alle webshops og websites. Skriv en mail til mig på mm@mogens-moeller.dk, så giver jeg besked når det er klar.
Resultat af splittest: Hvad giver flest sign-ups: PDF-guide eller konkurrence?

,