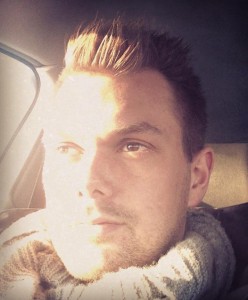 E-mærket er et fantastisk omdiskuteret emne, som alle har en mening om.
Jeg har selv kørt en del splittests af E-mærket, men i dag er det tid til et gæsteblogindlæg fra Patrick T. Rasmussen som er Country Manager hos nordens største gadget webshop CoolStuff.
Vil du gerne vide min holdning til E-mærket kan du se denne video.
Og nu ordet til Patrick:
Splittest af e-mærket
E-mærket er som et "kvalitetsstempel" for at en webshop overholder alle love, regler etc. – inkl. en stor bunke guidelines som e-mærket har. E-mærket bliver ofte solgt på at det hæver din konverteringsrate, men er det virkelig det man skal fokusere på når man beslutter sig for e-mærket?
Jeg har selv haft testet e-mærket flere gang på mange forskellige webshops inkl. CoolStuff.dk, hvor jeg har haft meget blandet resultater og jeg har er aldrig kommet frem til noget klart svar om e-mærket rent faktisk har en påvirkning på din konverteringsrate, som er de fleste webshops endelige mål. Man kan være "heldig" eller uheldig at det enten hæver eller sænker din konverteringsrate alt efter hvornår man tester.
Personligt har jeg selv meget blandet meninger om e-mærket, da man skal implementere og skrive flere ting, som med næsten garanti sænker ens konverteringsrate før man kan blive godkendt, men dog giver det samtidig en smule tryghed hos kunden, men har man overhovedet brug for denne tryghed eller er det en "falsk" tryghed?
Hvis du spørg folk om de foretrækker at handle på en webshop der har e-mærket eller om det ikke betyder noget for dem, så svarer de at de helst vil handle på en webshop med e-mærket, men et er at man spørg folk, to er om de handler alligevel – de fleste handler alligevel og ved egentlig ikke hvad e-mærket står for.
CoolStuff og e-mærket
CoolStuff.dk har næsten altid haft e-mærket "monteret" på sin side og har været glade for e-mærket, en dag modtog CoolStuff en liste med ting, som pludselig skulle laves om, da de havde gennemgået vores side, som med garanti ville ødelægge vores konverteringsrate., det var en blanding af love og e-mærkets egne regler. Der begyndte jeg så at tænke – Behøves vi overhovedet e-mærket mere? Det må testes!
Før vi implementerede de mange "rettelser", så ville jeg splitteste om E-mærket virkelig øger CoolStuff's konverteringsrate. Så derfor besluttede jeg mig for at sætte en simpel splittest op, som ville fortælle om det havde nogen påvirkning overhovedet.
Opsætning og placering
Opsætningen var rimelig simpel, jeg lavede 3 variationer, en version med e-mærket som det er i dag, en version med et mere fremhævet og større e-mærket og en version hvor e-mærket er fjernet på alle sider.
Du kan se de forskellige variationer her: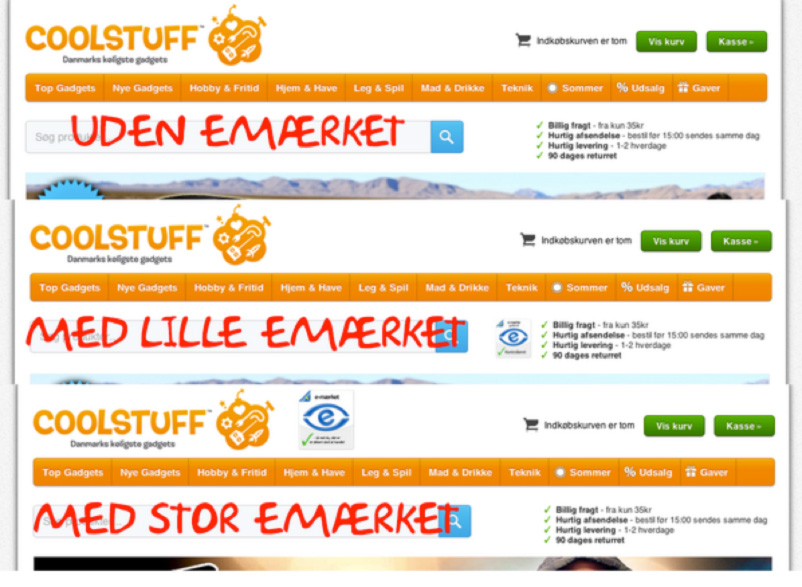 Ved at fremhæve e-mærket endnu mere, så skulle det jo i teorien hæve troværdigheden på siden, men hvad siger testen?
Resultat
I test perioden havde vi over 86 000 besøg i perioden og masser af konverteringer, hvilket betød at vi har et fornuftigt grundlag for at drage en konklusion.
– Testversionen med stort e-mærke konverterede 0.7% bedre end originalen
(Statistisk signifikansniveau: 78,2%)
– Testversionen uden e-mærket konverterede 7.4% bedre end originalen
(Statistisk signifikansniveau: 89,7%)
Man kunne vælge at køre splittesten i længere tid, men jeg er sikker på at vi ikke ville få et klart svar i sidste ende, så derfor valgte jeg at stoppe den, på baggrund af tidligere test.
Det er ikke overraskende for mig at der ikke var en stor forskel på konverteringsrate og ikke kunne finde en klar vinder, det er næsten det samme resultat jeg har opnået hver gang jeg har testet e-mærket.
Samtidig har jeg lavet en anden test for et stykke tid siden, hvor at e-mærket gav en positiv effekt på vores konverteringsrate, samt en tredje hvor det have en negativ effekt igen.
Konklusion
CoolStuff.dk er nordens nok største gadget webshop og har eksisteret i flere år på det danske marked og endnu flere på det svenske marked, hos os så kommer kunden altid i første række og det er vigtigt for os at de får den bedste oplevelse, når de handler hos os. Så i teorien burde vi sagtens kunne undvære e-mærket, da jeg ikke kan påvise nogen direkte effekt på en forbedret konverteringsrate og at vi ikke er en ny og grøn webshop.
Dog har jeg taget beslutningen om at beholde e-mærket simpelthen fordi det giver en slags tryghed for kunden, da de har en hotline, som de kan kontakte, vi kan få juridisk hjælp, at vi får et slags årligt service og mange flere ting.
Så en kort konklusion: Få ikke e-mærket for at hæve din konverteringsrate, men få e-mærket for dine kunders skyld.
Splittest af e-mærket på CoolStuff.dk

,